8x more accelerated
webpage loading
6x less disk, CPU, and
memory consumption
You probably love your smartphone – except for maybe the phone part and, in particular, the telemarketers often on the other end of the line. Telemarketers make 148 million annoying, time-wasting calls per day1 and do-not-call lists (where available) do not work2, 3 (and weren't even meant to for many types of telemarketers4). Callblock is the first iOS app that helps prevent these calls and related text messages.5
Based on our benchmarking, the app identifies 86.7 percent of telemarketing calls correctly with a false-positive rate of only 1.7 percent on average.6
Callblock is something of a sequel to our ad blocker, Adblock Fast, which has 3,000,000 users and is rated 4.5 and 4 stars in the App Store and Google Play since launching alongside iOS 9 then the Samsung Galaxy S6. We've built on our experience filtering online advertisers to compile, classify, and apply the world's biggest directory of telemarketers, featuring millions of entries from almost every country in the world.
With the app, you can:
Filtering

ruleset

Install

filesize

Page load

time

Peak CPU

use

Peak memory

use
AdBlock

49,002 rules

49K rules

843 KB
2.84s
19.4%
162.5 MB
Adblock Fast

7 rules
97 KB
2.10s
6.6%
58.5 MB
Adblock Plus

ABP

49,002 rules

49K rules

543 KB
3.23s
20.3%
158.0 MB
1. Reduce unwanted calls and texts by more than 85 percent.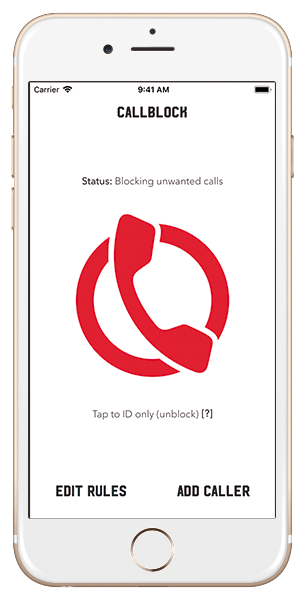 2. Filter more than 3,000,000 telemarketers by type.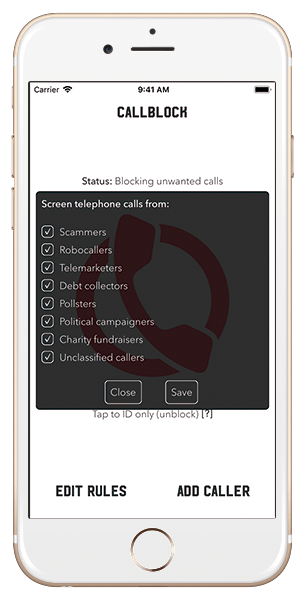 3. Add and report missing or misclassified telemarketers.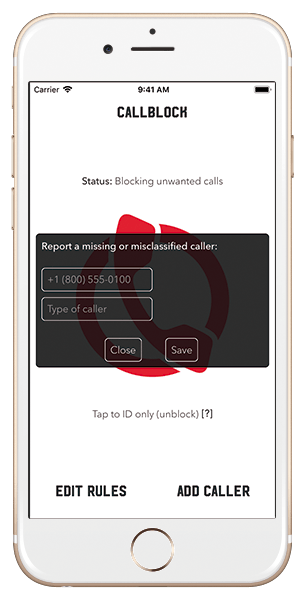 4. Just tap to caller-ID only rather than block telemarketers.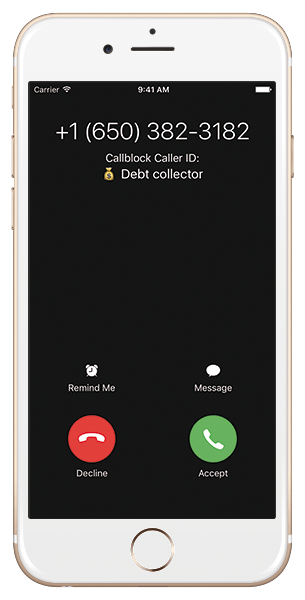 Notes
Facts and figures on telemarketing, The Houston Chronicle, accessed September 6, 2016.
Cutting off robocalls, The Federal Communications Commission, accessed September 6, 2016.
Do-not-call list "useless", critics say, The Canadian Press, accessed September 6, 2016.
Who may or may not call?, The Federal Trade Commission, accessed September 6, 2016.
Callblock's new iOS app will block calls, TechCrunch, accessed September 7, 2016.
Calls were sampled and Callblock's identification of telemarketers, evaluated in May 2017.
Show or hide the raw benchmark data.
Owner's manual
Callblock blocks unwanted telephone calls and iMessage, SMS, and MMS messages. To enable the app to block calls and texts:
press the Home button on your iPhone,
tap the Settings app,
tap Phone > (under CALLS) Call Blocking & Identification, then
toggle the Callblock switch on.
To unblock calls and texts, go to the Callblock app. To add, remove, or reclassify a missing or misclassified caller, tap the Add caller button.
Enabling Callblock or making changes in the app may require up to a minute to take effect.
If you have any questions or comments, you can follow and message us on Facebook, on Instagram, or on Twitter or can send us mail at help@callblockapp.com.
Frequently asked questions
Who makes Callblock?
Callblock is designed, developed, and maintained by Rocketship, an award-winning app studio and the maker of the popular ad blocker Adblock Fast.
What's an Unclassified caller in Callblock?
An Unclassified caller is one Callblock has identified as a telemarketer but not yet which type.
Which countries does Callblock work in?
Callblock can screen telephone calls and text messages from almost every country in the world – 174 of the 193 recognized by the United Nations and so many that naming which countries are not supported is a whole lot easier. They are:
Antigua and Barbuda
The Bahamas
Barbados
Dominica
The Dominican Republic
East Timor
Grenada

Jamaica
Liechtenstein
The Marshall Islands
Nauru
North Korea
Saint Kitts and Nevis

Saint Lucia
Saint Vincent and the Grenadines
San Marino
Tajikistan
Trinidad and Tobago
Tuvalu
The countries Callblock supports are:
Afghanistan
Albania
Algeria
Andorra
Angola
Argentina
Armenia
Australia
Austria
Azerbaijan
Bahrain
Bangladesh
Belarus
Belgium
Belize
Benin
Bhutan
Bolivia
Bosnia and Herzegovina
Botswana
Brazil
Brunei
Bulgaria
Burkina Faso
Burundi
Cambodia
Cameroon
Canada
Cape Verde
The Central African Republic
Chad
Chile
China
Colombia
Comoros
Congo
Costa Rica
Croatia
Cuba
Cyprus
The Czech Republic
The Democratic Republic of the Congo
Denmark
Djibouti
Ecuador
Egypt
El Salvador
Equatorial Guinea
Eritrea
Estonia
Ethiopia
Fiji
Finland
France
Gabon
Gambia
Georgia
Germany

Ghana
Greece
Guatemala
Guinea
Guinea-Bissau
Guyana
Haiti
Honduras
Hungary
Iceland
India
Indonesia
Iran
Iraq
Ireland
Israel
Italy
The Ivory Coast
Japan
Jordan
Kazakhstan
Kenya
Kiribati
Kuwait
Kyrgyzstan
Laos
Latvia
Lebanon
Lesotho
Liberia
Libya
Lithuania
Luxembourg
Macedonia
Madagascar
Malawi
Malaysia
The Maldives
Mali
Malta
Mauritania
Mauritius
Mexico
Micronesia
Moldova
Monaco
Mongolia
Montenegro
Morocco
Mozambique
Myanmar
Namibia
Nepal
The Netherlands
New Zealand
Nicaragua
Niger
Nigeria
Norway
Oman
Pakistan
Palau
Panama
Papua New Guinea
Paraguay
Peru
The Philippines
Poland
Portugal
Qatar
Romania
Russia
Rwanda
Samoa
Sao Tome and Principe
Saudi Arabia
Senegal
Serbia
Seychelles
Sierra Leone
Singapore
Slovakia
Slovenia
The Solomon Islands
Somalia
South Africa
South Korea
South Sudan
Spain
Sri Lanka
Sudan
Suriname
Swaziland
Sweden
Switzerland
Syria
Tanzania
Thailand
Togo
Tonga
Tunisia
Turkey
Turkmenistan
Uganda
Ukraine
The United Arab Emirates
The United Kingdom
The United States
Uruguay
Uzbekistan
Vanuatu
Venezuela
Vietnam
Yemen
Zambia
Zimbabwe
Where does Callblock's directory come from?
Callblock's directory of telemarketers is compiled from public and private records, the results of our ongoing research and testing, and user reports. An average of more than 10,000 new entries are added to the directory and existing entries, reclassified daily. The app autoupdates to include these changes.
When will Callblock be available on [insert platform here]?
Callblock is available for iOS 10 and up on 64-bit phones, iPhone 5s and up. Follow us on Facebook, on Instagram, or on Twitter to find out when versions for other platforms become available.
Why is a subscription required if Callblock was purchased?
You don't need a subscription if you bought the first version of Callblock, but later versions can't determine that you did if you've since deleted the app. Forward your App Store receipt to help@callblockapp.com, though, and we can credit you with a subscription.
How can a subscription to Callblock be canceled?
Apple (not developers, like us) handles subscriptions in iOS. See their instructions for managing your subscriptions.
How much does Callblock cost?
You can try Callblock free for a month. Afterwards, the app is $1.99 monthly or $19.99 yearly.
Is allowing Contacts access required to use Callblock?
Unlike similar apps, Callblock doesn't need to access your Contacts and doesn't collect or sell your Contacts data.
Are Unknown callers blocked by Callblock?
Callblock can't block any call or text without a caller ID. This is an iOS limitation, but most telemarketers attempt to seem legitimate by not blocking their caller IDs.
Does Callblock list blocked calls somewhere?
Calls blocked by Callblock are sent directly to your voicemail. To check which messages are from such callers, press your Home button, tap the Phone app, then tap the Voicemail tab. Blocked callers will be annotated with caller-ID info. (If you've set Callblock to caller-ID only, you can check which calls the app has identified as being from telemarketers by tapping the Recents tab.)
Can a missing caller be added to Callblock?
To add or remove a missing or misclassified caller to or from Callblock's (local) directory (and to report the caller for review to help improve the distributed directory), tap the Add caller button, enter the caller's telephone number, and choose which type the caller is or the Not a telemarketer option if the caller isn't a telemarketer.